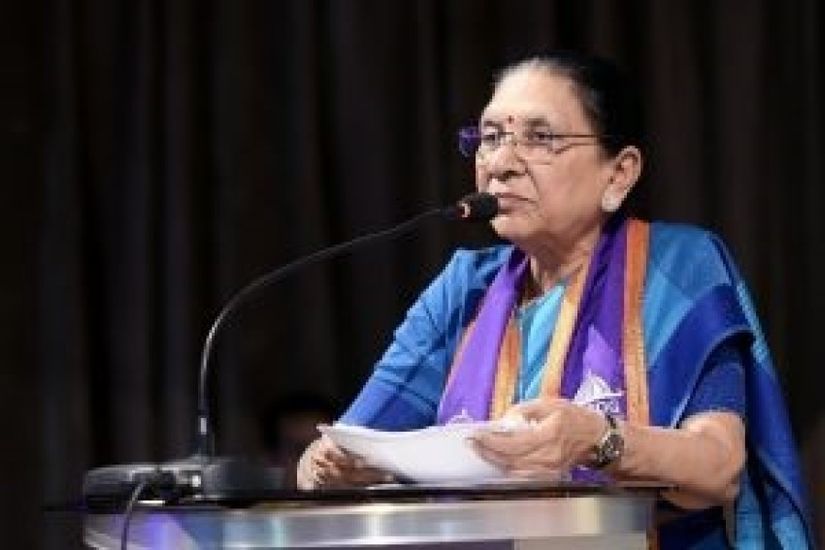 Pune, Feb .02::- Uttar Pradesh Governor Anandiben Patel on Thursday said that India will soon become a global education destination and superpower if we bring reforms in our higher education system.
Patel also appealed to students and universities to actively participate in ensuring welfare schemes reach the poor and downtrodden within the society. She was speaking at a program organised by MIT World Peace University.
The newly built WPU School of Business 'Chanakya' was inaugurated at the hands of Anandiben Patel. Mahratta Chamber of Commerce, Industries and Agriculture (MCCIA) President Deepak Karandikar, Director General Prashant Girbane, RFID-NFC Technology leader and MIT Alumni Ashim Patel, MIT WPU Founder President and UNESCO Chair Holder Prof. Dr. Vishwanath D. Karad, MIT WPU Executive President Rahul V. Karad, Vice Chancellor Dr R M Chitnis, Pro VC Tapan Panda, Senior Director Praveen Patil and others were present on the occasion.
Anandiben Patel said, "The entire world is looking forward to Indian students as we will be the growth engine for the globe. The National Education Policy will make the education system more competitive. India will become a superpower if we undertake higher education reforms. Students should understand the opportunities and challenges before the society and provide innovation solutions."
"With students becoming knowledgeable citizens, India will soon become a global educational destination. We need to bring our educational institutions at par with international standards. Also, we need to recognise the traditional skills in making indigenous products and their design. Students and universities should also actively participate in ensuring various welfare schemes of the government reach the poor and downtrodden within the society," Patel added.
Karandikar said, "Education institutes should engage more with industries, especially the micro, small and medium enterprises. Faculty members and students will benefit from this initiative and industry will get hands and brains to solve problems. Students will become employable if they understand the technology, finance, regulatory compliances and indigenisation aspects of business operations."
Ashim Patel said, "Students will one day witness a turning point in their life. Students should have a social cause in their career, life, and entrepreneurship journey. Being an alumni of MIT, I am confident that you will become spiritually enlightened and will understand the importance of it in your life."
Prashant Girbane said, "We should never allow where we come from a constraint for where we want to go. Students should study well, work hard and give what they can to their team, organisation and society."
Dr Vishwanath D Karad said, "MIT WPU is a life transforming institution. Discipline and character building are important aspects of education. We have designed programs to let our students experience the challenges in rural India and solve it. Our faculty and students are taking efforts to make a India truly 'atmanirbhar'."
Rahul V. Karad said, "To know the society, we should see and work in the society. I am proud of MIT students who have contributed to the society within India as well as international level."
Dr Gautam Bapat compered the function. Dr. Chitnis welcomed the guests. Dr Panda expressed the vote of thanks .